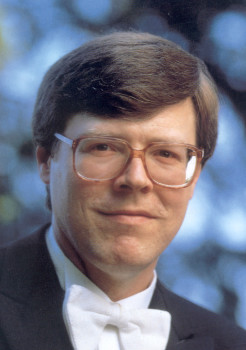 Photo: Klaus Hennch / Zürich-Kilchberg
A native Texan born in 1952, ROBERT HAIRGROVE studied piano privately as a young boy with June Sperry Trent and with Albert Hirsh. After graduating from high school, Robert Hairgrove studied science and engineering at Rice University in Houston for one year. But he soon changed venues (and subjects), gradua­ting with a Bachelor of Music degree in piano per­for­mance from the Peabody Conservatory in Baltimore studying with Walter Hautzig, and with a Master of Music degree in piano performance from the University of Texas in Austin studying with Gregory Allen and John Perry. In 1976, Robert Hairgrove won a DAAD exchange scholarship to further his musical studies at the State Academy of Music in Hamburg, Germany where he studied with Yara Bernette and Evgeni Koroliov. He also studied with Karl Engel at the Academy of Music and Theater in Bern, Switzerland from 1980-82 and performed in master classes given by Jorge Bolet (1979 in Edinburgh, Scotland) and Leon Fleisher (1980 in Toulouse, France).
After his Carnegie Recital Hall debut in New York in 1983, Robert Hairgrove appeared in numerous concerts in the United States, Japan, South America, Russia, and in several European countries as soloist with orchestra, in chamber music concerts, in radio broadcasts, and in solo recitals. His piano artistry has been heard in major venues such as the Tivoli Gardens concert hall in Copenhagen, in Hamburg's Musikhalle, in the Phillips Collection in Washington DC, in Amsterdam's Concertgebouw Recital Hall, and in Zürich's Tonhalle. His repertory encompasses a wide range of periods and styles starting with suites by J. S. Bach through major sonatas and compositions of the Classical and Romantic masters to numerous works of contemporary composers such as Erich Schmid's Clarinet Trio, Mario Davidovsky's "Synchronisms No. 6" for piano and pre-recorded tape, Alfred Schnittke's "Sonata No. 1 for Violin and Piano", or Elliott Carter's "Triple Duo."
He has performed together with artists such as the conductors Mario Venzago and Bogusław Dawidów, with the tenor Carl Hieger, with the Carmina String Quartet, and with musicians of the Zürich Tonhalle Orchestra, the Zürich Opera Orchestra and the Zürich Chamber Orchestra (ZKO). He was the pianist of the TRIO BELLERIVE together with Heinrich Mätzener (clarinet) and Sandra Goldberg (violin) which was active from 1990-99. Together with his wife, Sandra Goldberg, he has also performed a wide variety of programs of works by American composers for violin and piano.