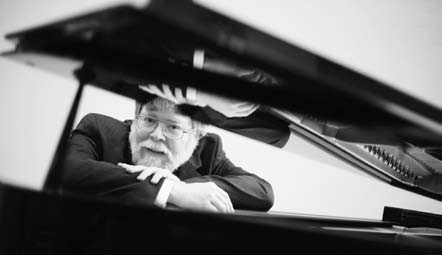 Reviews
(links to the original reviews will open in a new window):
(Schumann CD):
"An impressive entry into the solo field … What one hears are dedicated performances, faithful to the point of employing an impressive, complete technique to eloquence and brilliance within the bounds of true Schumannesque style. Hairgrove's subtle use of rubato is perfect, so much so that one is never made aware of its presence. It's omnipresent, as it should be, but never to the extent that it sounds calculated. As with a great theatrical performance, one does not notice the actor acting. Only the reality comes through."
— Fanfare, Nov/Dec 1992 (Heuwell Tircuit) — read the original here...
(New York debut):
"The pianist Robert Hairgrove put his best foot forward at Carnegie Recital Hall Wednesday night with a clean, taut, rhythmically charged performance of Elliott Carter's early piano sonata. The many attributes of this stark, granitic work were expertly argued and Mr. Hairgrove's performance was highly successful. (...) Although Mr. Hairgrove was not as comfortable with the massive structure of Liszt's Sonata in B minor as he might have been, there were elements to admire. Mr. Hairgrove's fingerwork was secure, his conception suitably heroic, and he brought a relentless excitement to the closing fughetta."
— The New York Times, Jan. 23, 1983 (Tim Page) — read the original here...
(from Winterthur, Switzerland):
"MEISTERPIANIST FROM TEXAS — Hairgrove's performance was masterful all round, even overwhelming. A pianist of high class — we shall hear from him again."
— Der Landbote, Mar. 10, 1982 (Rita Wolfensberger) — read the original here (in German)...
(from Kiel, Germany):
"PIANISTIC SPLENDOR — Hairgrove's performance of Schumann's "Carnaval" was not only technically masterful, but he gave a convincing realisation of its many different characters. … In the following works by Chopin, the Ballade No. 1 culminated in a powerful, tragic climax. After the dreamlike Second Impromptu, in one of the Etudes he conjured up an unsentimental vision of Chopin's yearning for his Polish homeland. Following the Nocturne in B Major, Op. 62 No. 1, the Scherzo in B-flat minor once again exuded pianistic splendor which carried over into the encores he played."
— Kieler Nachrichten, Feb. 19, 1982 — read the original here (in German)...
(AMSTERDAM:)
"If this composition [Liszt B minor Sonata] had been the only program item, going to the Concertgebouw Recital Hall would have already been more than worthwhile. This was powerful piano playing! Even in the densest climaxes the architecture was clearly perceptable. Nowhere too much pedal for brilliance. For this I take my hat off to Mr. Hairgrove. It was very impressive … Mr. Hairgrove's enormous talents as a pianist, his instrumental grandeur, and his warm romantic nature."
— Amsterdam, Oct. 4, 1988 (Jan van Voorthuysen)
(BRUSSELS, L'Atelier:)
"...magical effects in the works of Debussy and Liszt … It is indeed rare to hear this [Liszt: B minor sonata] played in such a masterful way as Robert Hairgrove did."
— Brussels, Oct. 11, 1988 (M. Génia)
(HEIDELBERG:)
"Hairgrove presented the Sonata [by Liszt in B minor] in its whole gamut of contrasts between lyricism and monumentality … here appeared a unique interpretative profile, very convincing and successful."
— Rhein-Neckar Zeitung, Oct. 13, 1988
(BOSWIL, Switzerland:)
" … a gifted artist who fascinated his audience."
— Badener Tagblatt, Sept. 7, 1988
(FREIBURG:)
"Without a doubt, [Hairgrove's] technique places him in the class of the great talents … he proved his abilities impressively and, in the truest sense of the word, breathtakingly in Schumann's Toccata. Here, everything was perfect … Totally delightful was Debussy's "Images", the tonal realms of which Hairgrove illuminated sensitively."
— Badische Zeitung, Nov. 12, 1988
(BERN, Switzerland:)
"The pianist showed admirable form throughout the evening's recital. He mastered Beethoven's polarized dynamics and gave proper attention to the middle range as well. (…) In Debussy's Images, the Reflets dans l'eau took on magical qualities."
— Der Bund, Nov. 28, 1988
---
with the TRIO BELLERIVE:
---
(MILHAUD-CD:)
"The three musicians play Milhaud with elegance, sensitivity, and verve. The tempi are just right and the nuances are appiied with taste. (…) These are the best available recordings of the Voyageur sans bagages, of the 2nd Sonata for Violin and Piano, and of the Sonatina for Clarinet and Piano (and altogether a most attractive program, one might add)."
— Diapason, Mar. 1993 (Jean Roy) — read the original here (in French)...
(MILHAUD-CD:)
"Clarity of texture was more important to Milhaud than color. All three artists bring this out without neglecting the element of playfulness in his music. All in all, witty music, performed with zest."
— Musik & Theater, Mar. 1993 (Walter Labhart) — read the original here (in German)...
(MILHAUD-CD:)
"Koch produced some excellent CDs for the Milhaud Centenary in 1992 but none more successful than this. The gifted members of the TRIO BELLERIVE are outstanding in the popular Suite Op. 157b for Violin, Clarinet and Piano; the violinist, Sandra Goldberg, is equally memorable in the fine Sonata No. 2 Op. 40 and the haunting early Le Printemps Op. 18 for Violin and Piano. The clarinettist, Heinrich Mätzener, gives a dazzling account of the brittle Sonatina Op. 100 and a suave reading of the later Duo Concertant Op. 351, but the real interest for Milhaud collectors lies in the world premiere recordings of the Caprice Op. 336a and the Petit Concert Op. 192 - the latter tiny three-movement piece is a real gem. As implied, the performances are first-class in every respect: the pianist, Robert Hairgrove, is a fine accompanist and his liner notes are exemplary. The recordings are very good indeed; the CD is highly recommended."
— Musical Opinion, Feb. 1993 (Robert Matthew-Walker)